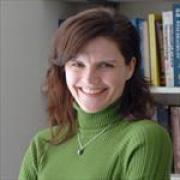 Amy Byers, PhD, MPH
Dr. Byers is an epidemiologist with a background in aging research, methods, and biostatistics. Her research focuses on the epidemiology of late-life mental health and employs advanced epidemiological and biostatistical techniques to determine the prevalence, risk factors, and outcomes of late-life mental health disorders with the objective of reducing the burden of these disorders by informing long-term clinical care. As a clinical epidemiologist studying geropsychiatry with an expertise in mathematical epidemiology, Dr. Byers has been heavily involved in research to determine nationally representative estimates of psychiatric disorders and health care utilization among older community-dwelling adults.
Dr. Byers was the recipient of an NIH K01 Career Development award that involved the application of advanced methodology to address complex clinical questions on the onset, course, and outcomes of geriatric depression. She was also the recipient of a Department of Defense grant that investigated late-life PTSD and adverse health outcomes such as morbidity, mortality, and health services utilization among US Veterans, the first comprehensive longitudinal examination of late-life PTSD and adverse health outcomes in this population. Recently, Dr. Byers has been awarded a Department of Veterans Affairs CSR&D Merit award to study suicide and suicidal behavior among older US Veterans. She has also received an NIH R01 award to study the prevalence and key predictors of suicide-related behaviors in ethnically-diverse older Americans and to examine mental health services use in older Americans at increased risk of suicide.
Dr. Byers has had her research published in many prestigious journals including the New England Journal of Medicine, Archives of Internal Medicine/JAMA Internal Medicine, and Archives of General Psychiatry/JAMA Psychiatry.